Urban sketching workshop, Alta Plaza Park, San Francisco with Farah
Saturday July 25, 2020 from 10 am to 1 pm
Learn how to use colored paper to create unique on location sketches, with suitable color harmonies using mixed media.
For this workshop the colored paper we use for our sketch becomes our lens and not just our canvas. We will learn to use any color paper to sketch on location, stamp it with our individuality and have fun with color.
This workshop is designed to bring out the best in everyone wether they have previous sketching experience or not. We will begin with exercises to understand our mediums on colored paper, and then move onto weaving our patterns into our sketch and then bring them to life in full blown color.
Students will need to bring their existing watercolor kit, brushes and a micron pen. Paper and other materials will be provided.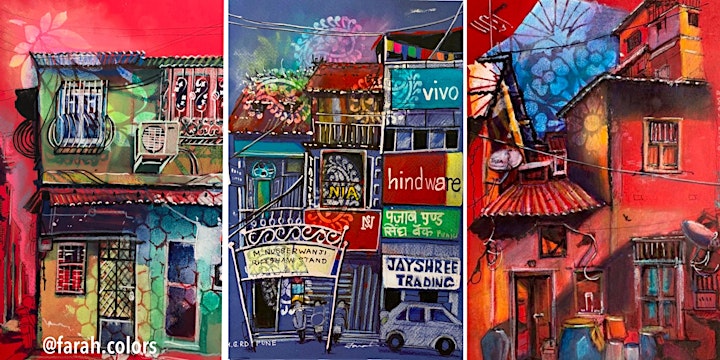 In this workshop we will
Learn to compose a sketch on location using coloured paper.
Explore how to create a focal point using varied mediums and textures.
Create suitable colour harmonies in relation to the colour of the paper.
Learn to introduce light and luminosity and contrasts to make our colors pop up on a colored background.
Cost: $55
Use this link to sign up now:
https://www.eventbrite.com/e/wearing-colored-lenses-tickets-98541451133